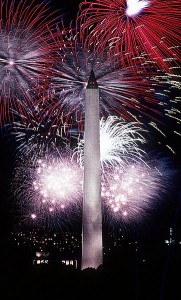 Happy Independence Day to all my fellow Americans.
We're blasting through the summer months quickly which is why I thought this might be a good time for you to look over your nonprofit newsletter.
Take a look and see where you can tweak a few things before the heavy-duty fall and year-end fundraising kicks in at full force.
Last week I touched on possible updates to your website and social media profiles as part of your summer fix-up prior to fall fundraising. You know; give them fresh look without massive effort.
.
To help you accomplish those updates I have my Independence Day Promotion which expires July 16, 2013 … so please get in touch with me real soon.
11 Critique Elements of a Nonprofit Newsletter
.
• Overall, how are they responding to your calls-to-action (CTAs)?
If it's print you can't check for clicks or conversions as you would with an email newsletter. Still . . .
Anyone calling? Anyone inquiring about your legacy/planned giving program? Anyone sending in donations? Anyone signing up for events? Anyone enrolling in your association's webinars, buying books, or the like?
What feedback are you getting? Anything at all?
• Print – What's on page one? And please don't tell me it's a letter from your President, Director or other honcho.
• What's the purpose of your newsletter? What is the primary objective you want to achieve with it?
Is it pure cultivation?
Is it reporting back to donors on what they've accomplished with the money they sent your charity?
Is it sharing industry news and career development opportunities with members of your association?
Does it include revenue generation?
• Does the content and design support the primary purpose? Do the articles you publish and how they're written … does the layout of what goes where … and do the CTAs all support that primary objective?
Granted you can have a secondary objective and CTA. Just make certain it doesn't receive the same prominence in your design and copy as the primary.
Regarding design: It doesn't have to be snazzy or expensive. Yet I suggest you do something with a bit of pizzazz. And that's possible on any budget.
• How long is your newsletter? This is especially critical with email.
Email – if your newsletter is long and/or the articles are long, then write a short paragraph of teaser copy for the main articles. Have your readers click a link to get the complete article and remaining content on your website.
Do you have some type of "table of contents" at the beginning? Or anything at all to summarize what's inside? Besides a table of contents, another possibility is what you typically see on the covers of magazines. I'm not suggesting you create a cover; just incorporate the article/headline concept to draw readers in.
• Regardless of length (print or email), write for skimmers. This includes plenty of white space (e.g., short paragraphs and nice margins), headlines and subheads, bullets, and so on.
• Are you sharing stories? Good storytelling draws readers in almost like nothing else can. And I'm not talking about writing a novelette. A story that's a few paragraphs long goes a long way to demonstrate what's being accomplished with the aid of your supporters.
• Do you cross promote to the other channels where donors and members can find you? I'm referring to your website, your social media channels, and even referring to the direct mail you've sent them.
Print: Are you using QR codes and vanity links to facilitate driving traffic to your website and other online channels?
Email: Do you include social sharing buttons or links?
• Have you asked your donors or members what they want to read in your newsletter? Do you know with certainty what's most important to your supporters? Perhaps now is a good time for a poll or survey. People love to share their opinion.
• Do you publish your newsletter on a regular schedule?
• When was the last time you updated the design? Is it consistent with the branding on your website, in your direct mail appeals, etc.?
Regarding ALL of the above questions: Be critically objective and remove the emotion (i.e., separate your personal attachment to the newsletter you've worked so hard on over the past months or years and strive to see what outsiders see). Be tough on yourself and don't be afraid to test a new approach. If you're willing and able to do this the end result will be a newsletter that yields stronger results.
Nonprofit newsletters play a vital role in your cultivation and retention strategy. Yet like everything else they benefit from testing to determine what works even better. Take time now to update and freshen your newsletter so it's ready for the fast approaching fall and year-end season.
Related posts:
Reader-Centric Newsletters … do YOU have one?
Nonprofit Newsletter Headlines – 19 Ideas
Write a nonprofit newsletter donors and members want to read