I've often written about how your nonprofit …
• Must give people a reason to sign-up for your newsletter, blog, or anything similar
• Would benefit by having a call-to-action (CTA) on your acknowledgement page. Give people something else to do after joining, donating, etc.
• Needs to take a hard look at your website and social media profiles from time-to-time. For example: Look for outdated events or information.
Loyal readers of my blog know I've been touting all that for months . . . nay; for years. Yet I confess I was woefully overdue myself.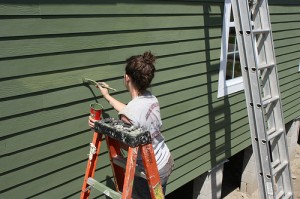 I finally followed my own advice.
And I urge you to also use summertime to add a fresh coat of paint to your online image.
Get things spruced up NOW before the heavy-duty fall and year-end fundraising seasons arrive.
They're just around the corner so don't hesitate. Especially since you're already working on your fall direct mail appeals which you'll integrate with your online channels.
As I highlight the areas I've "freshened up" on my own website and social media profiles, I encourage you to evaluate how the paint looks for your nonprofit's online appearance.
• Updated the headline and lead paragraphs on my website home page.
• Reviewed the Privacy Policy and Terms of Use for the website and updated them
• Revised the sign-up box (sidebar on this page; upper right) for the Zapp Nonprofit Blog. Gave it an updated look and included a reason why fundraising pros like you benefit by subscribing. I'm really embarrassed that I didn't have this until now. (Sheepish grin)
• Totally overhauled the acknowledgement page for blog email subscribers. And I added a CTA. But to see that you need to subscribe (Subtle, huh?). And if you're already a subscriber – thanks again.
Now saunter over to my Facebook page where I post content during the week that you can't always find here on my blog or within my Tweets.
•  I added a CTA to the cover image along with a clickable link to my website. In case you don't already know … it's not possible to send visitors directly to your website when they click the cover image. They'll be taken to the photo description page where you add the link.
Hmmm. As I look at the CTA again I see it could be stronger. I'll make that improvement soon!
•  I have to "roger up" to another embarrassing oversight. I didn't have an app on my Facebook page where people sign up for my blog. That's now among the three  apps (tabs) visitors see without clicking.
By the way, this oversight is a prime example of how easy it is to miss the obvious when looking at your own marketing and/or fundraising work. And that's why I'm offering an Independence Day Promotion – described below – for readers like you.
•  Although there are a few more improvements planned, I did make numerous changes to the apps (tabs). Changes included images, names, and content within the tab (i.e., what you see when you click it).
Browse around. Let me know what you think. And please let me know if something isn't clear or there's something you would like me to add.
Oh, and did you notice if you "LIKE" my Facebook page you gain access to exclusive content?
That's not all. I also changed the background for my Twitter profile. I've never been keen on the defaults. A few years ago (when there was a decent free version) I used TwitBacks to create a background with some branding and custom content. But I wasn't too thrilled with it either. So the one you see now is a complete overhaul.
One last item: As I said earlier . . . summer is a prime time to give your online presence a fresh coat of paint – an updated look. It's unnerving how easy it is to overlook critically needed changes with your own website and other marketing. That's why I'm offering a special Independence Day Promotion to help you out.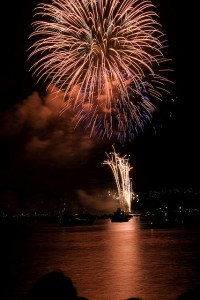 Independence Day Promotion: I'll identify what I believe are the four most critical changes to make on your nonprofit website (by viewing your HOME page, only). Plus I'll identify the two most critical changes to make for your Facebook page and Twitter background (i.e., 2 for Facebook and 2 for Twitter); all for $50.
To be clear, I don't rewrite anything for you. I don't make the updates for you. I simply cite the changes I believe will give you the most bang in terms of impact on your donors and members.
Remember – I'm essentially one of your potential supporters looking in from the outside. My perspective, and what matters most to me, is likely quite different from yours. And if you want more conversions (e.g., donations, sign-ups, people joining and buying, etc.) . . . this is the perspective you need to cater to.
Deadline to act (i.e., hire me to do the critique) is July 16, 2013. Contact me today. Type "Independence Day Promo" in the subject line. And let's get rolling so you're ready for fall fundraising!
——————
Photo Credits: Trevor Huxham and Shivanand Velmurugan  via PhotoPin.com