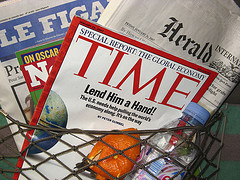 In a recent post I gave you "5 Steps to Profitable Donor Newsletters." Point #2 was to write enticing, engaging, and interesting headlines.
Here are 19 ideas on how to do just that.
.
Use Lists:
10 life-saving changes you made possible in 2012
3 ways to [blank]         (Fill in the blank with what's appropriate for your nonprofit … help save lives … get Martha smiling … protect a child from sex trafficking)
Or, "3 ways polar bears are living longer, thanks to you"
Make your headlines more donor- / reader-centered
Before: Our 80th Anniversary Year
After:    80 Years of Serving [blank]
(Subtle shift of emphasis from "we" to "those helped" where [blank] is what/who donors helped)
or
Are You Ready For the Next 80 Years
(Article can then focus on how donors make the future possible; make it better, etc.)
Ask a question and/or be negative:
Do You Make This Same Mistake?
(Then point out a common misconception people have about a part of your mission and why it's so important to change these views, and how donors can help do just that)
Emphasize the point of the story; tease with a few details so they want to read more. In other words, give them more insight on how they'll be rewarded by reading the article
Before: "Exciting Ideas From Acme Chapters
(Acme = I changed the name of association; "Acme" isn't the real name but otherwise the headline is one an association used)
After: Raise more money with raffles, contests other ideas from chapters around the country
Say it simply and directly:
• Help a Vet
• Blood Saves Lives
• Power of Prayer
Other ways to write stronger headlines (including a few template examples) are:
– Use numbers
– Insert a command
– "See how easily you can [desirable result]"
– How-to information
– Be a bit (or a lot) controversial
– "Here is how you're helping [blank] to [blank]"
– Focus on what readers want to know, what they want to read … give them a benefit
– Write a negative headline with words such as "mistake", "failure" or "worst"
– Start with the word because
– "Who else wants [blank]?"
– "Quick way to [solve a problem]"
– State the big benefit from the donor's perspective
– Share an honest, enthusiastic testimonial from a donor or member
– "What everybody ought to know about [blank]"
By the way, although I was writing about headlines for donor newsletters in this post . . . much of this applies equally to email subject lines, social media updates, online press releases, and more.
What type of headlines have you tested? What is working best for your nonprofit?
Related Posts:
Headline examples from press releases – How to get noticed by more prospects, donors and members
7 Tips for Better Email Subject Lines & Envelope Teasers
————-
Photo credit: Flickr "mon_oeil" via PhotoPin.com