Sending out periodic online press releases is another effective way to acquire prospects, donors and members for your nonprofit.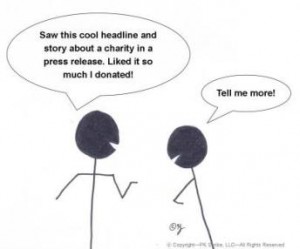 Maybe you want to promote an upcoming event.
Or perhaps a major campaign warrants the added help of a press release.
Or you just signed a cause marketing agreement with a corporation.
Hey. Maybe a great story crossed your desk on how your nonprofit made a difference in someone's life. So you use that story as a lead in your online press release and finish with info on how readers can help make it happen again.
Whatever the message, to get maximum benefit you need to follow a few guidelines. The one I'm going to focus on today is the headline.
Stand out in the crowd
Begin by crafting a headline that makes you stand out from the crowd. And it is a big crowd you're in. Over 50,000 press releases hit the wire services each and every day. But don't dismay. Most releases have dull headlines and dull body copy.
Although the nonprofit didn't write this one, the example below still illustrates the point. And when you do have news about a new cause marketing partnership, perhaps you ought to try and influence the press release copy that the corporation distributes.
Or better yet, write one of your own with more pizzazz so it actually gets noticed … so it gets published by news services and bloggers … so it gets tweeted and talked about on Facebook … so it gets lots of exposure and your nonprofit gets lots of publicity.
Here is the headline and summary of the press release I found on PR Newswire:
US Airways Dividend Miles to Help "Keep America Beautiful" Through "Miles of Hope" Program
Airline Jumpstarts Partnership by Matching Mileage Donations
That's not exactly exciting.
Just a bit of tweaking makes a big improvement. Here's an alternate headline and summary I came up with:
Fly with US to Keep America Beautiful
National nonprofit – Keep America Beautiful – is able to send more of its volunteers to communities in need thanks to donated frequent flyer miles from US Airways.
The headline triggers a bit of curiosity. And it's not burdened with self-serving organizational names and jargon.
Plus the summary explains the concept in a nutshell. So someone can quickly see if they like the idea and decide to help spread the good news by publishing your online press release.
Make it easy for journalists and other publishers. Give them something that stands out and will also attract their readers. After all, that's what is most important to the publisher – satisfying their readers.
Getting published is your goal
Your primary goal with a press release centers on having it published in as many places as possible. And again, you increase the odds of this happening by writing something interesting.
The more it is published … the more prospects, donors and members will read the story about your nonprofit. More people will click through to your landing page and respond to your call-to-action. Therefore, tell a great story and start with a captivating headline.
Related posts:
Act Immediately to Shake Up Your Nonprofit Publicity
How to get your nonprofit on local TV news