I like email. I like sending text messages. And I use both extensively. Yet neither of them grabs my attention like seeing someone's handwriting on an envelope or note card that I receive.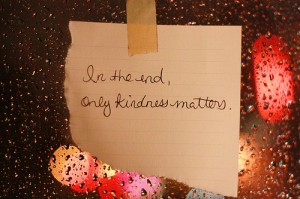 This is one reason I don't believe direct mail will ever die, because it's how we send each other handwritten notes, cards and letters.
And in the nonprofit world, I also believe sending a handwritten note is one of the most effective forms of cultivation available.
.
Don't think handwriting is important?
Let me ask you this: Would you send a sympathy card with a typed message on the inside? If you answered "yes," I'd be stunned and deeply disappointed.
Why exactly is the handwritten note so powerful? Why does it make a BIG impact on your donors?
• Handwritten messages take more time to create – the manual writing; the care to not misspell because 'spellcheck' isn't available; and the time to write neatly so it can be easily read.
• Handwriting isn't easy or time efficient. That's partly why it's exceptional.
• It costs more – and people know this – especially as compared to email, text messages or a social media update/message. The stationery, the stamps, and the logistics of getting it mailed all add to the cost.
• There's something very personal about handwriting. It's "real."
• Personal handwritten messages stand out in a world of fast, digital communications.
• The handwritten note is becoming a lost art. How sad.
• It's not only the elderly that appreciate the gesture.
• A well-crafted handwritten note shows a deeper investment and level of appreciation than a simple thank-you is able to do. But please don't limit your use of handwriting notes to thank-you messages.
• It's tangible. It's more memorable than email, text or other digital messages.
• It adds up to this: Handwriting communicates value – specifically, that YOU value the donor
Perhaps you're thinking: Who has time for this?
First off; I realize your time is limited. Whose isn't?
Yet that's precisely why a handwritten note is such a marvelous cultivation strategy.
Whether it's adding a handwritten note onto a typed letter . . . or writing a handwritten thank-you card . . . or enclosing a handwritten note to a major donor with an article on a topic of great interest to them . . . or anything in between, you send a loud and clear message that you value the donor receiving your handwritten message.
I believe everything you do is cultivation. This strategy of weaving handwritten notes into your donor communications is unique. It's worth making the time to do it – to find a way to make it a regular part of your stewardship and fundraising.
That's not all. Sincere, thoughtful and consistent cultivation increases loyalty, donor life-time value, retention, and your total funds raised. Remember: High touch trumps high tech when it comes to warm, personalized cultivation and fundraising. Direct mail delivers this high touch.
More on this topic:
8+ ways to better serve and cultivate donors and members
Donors and Teddy Bears Have a Lot in Common
6 Top Cultivation Methods (AKA: Stewardship)
This resource may also help you cultivate mid-level and major donors with a clever, personalized style. You can buy a batch of custom made cards, or have them do it all for you – even write the "handwritten" message … BlackSheepPostal.com
—————–
Photo Credit: "SweetOnVeg" via PhotoPin.com