I can't let this Federal holiday pass without mention: Friday, November 11th is Veterans Day.
And although it isn't a "big" as Thanksgiving, Christmas or Easter (nor even as big as Halloween – I'm sorry to say) … it's still an important holiday.
"This nation will remain the land of the free
only so long as it is the home of the brave." (Elmer Davis)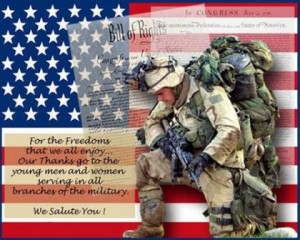 And there are many nonprofits (charities and associations) that help veterans and their families. I follow dozens on Twitter and I know there are many more.
One thing I've discovered is that many people who have never served in the Armed Forces tend to get Memorial Day and Veterans Day confused.
By that I mean that they're not certain what each one commemorates.
Memorial Day commemorates members of the Armed Forces who died while on active duty. And we also honor any veteran who has passed away.
And as for Veterans Day … here's a short history of this special day:
Veterans Day originated at the end of WWI. In November 1919, President Wilson proclaimed November 11 as the first commemoration of Armistice Day. The original concept for the celebration was for a day observed with parades and public meetings and a brief suspension of business beginning at 11:00 a.m.
An Act approved May 13, 1938, made the 11th of November in each year a legal holiday—a day to be dedicated to the cause of world peace and to be thereafter celebrated and known as "Armistice Day." Then in June 1954 – by Public Law 380 – November 11th became a day to honor American veterans of all wars and became known as Veterans Day.
Today it honors ALL veterans – past and present – of our Armed Forces regardless of whether they served during time of war.
It is a celebration to honor America's veterans for their patriotism, love of country, and willingness to serve and sacrifice for the common good.
Fly the flag on Friday. Wear a US flag lapel pin. Carry a small flag with you around town. Say "thanks and God Bless" to anyone you see in uniform and to anyone you know who is a vet.
Related post: