Major donors can generally be considered affluent – at least relative to national household income levels.  And I think it's safe to say that every nonprofit wants to have its share of major donors.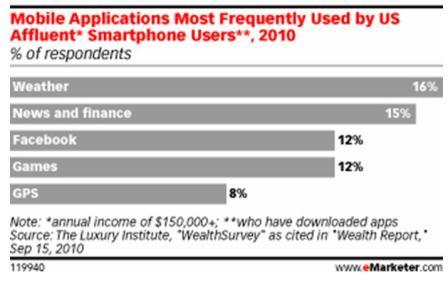 How might you attract major donors?  What will help to keep them engaged once they know about your nonprofit?
According to a survey in September 2010 by the Luxury Institute's Wealth Report, smartphone apps (applications) are very attractive to affluent people.  [Read more in the September 27, 2010 article on eMarketer.com, The Mobile Apps that Affluents Download]
"More than one-third of wealthy Americans have downloaded apps to their smartphones and another 11% plan to do so in the near future.  And 61% of them paid for at least some of their apps."
Downloading apps is only part of the equation.  These wealthy Americans are also using what they download.  On average they use seven apps regularly.  In fact 57% use five or fewer apps at several different times during the day.
Why do I bring this to your attention?
Because I believe mobile is a great way to attract more major donors.  And it's also an ideal way to cultivate those you already have.
First and foremost look again at the paragraph above, just before the subhead.  Notice the amount of repeat usage.  This is an opportunity for you to join major donors and prospects in their personal space . . . in their private world as they hold their smartphone day in and day out. This is significant! 
Second, notice the graph above.  It shows the relative popularity of the apps and where wealthy Americans spend their time when using apps.  They're seeking information, to be social, and to have a bit of fun.
According to the survey, as affluent Americans (a pool of potential major donors) use the apps they are primarily clicking through to a website and communicating with others.
How can your nonprofit be part of this engaging activity?  Get creative. Develop your own app.
Have a news feed of Google alerts on topics related to your mission.
Invite them to your Facebook page filled with great success stories.
Have an entertaining game related to your mission (I recognize that some missions may not lend themselves to this; but don't be too quick to dismiss this idea either).
In addition to having something engaging on your app, include an easy way for the user to share (i.e., share on social media sites), info about your nonprofit to their friends.  Accessing social media networks and sites is common among all mobile users.  Be a part of it.
Also included in this second point is my strong suggestion to have an easy way to reach your website (ideally link to mobile-friendly pages as much as possible).
Third, recall that 61% of those surveyed "paid" for at least some of the apps they downloaded.  What does that signify?  Perhaps you can charge for the app you create as part of your fundraising.  Or, ask a major donor(s) to fund the development of an app that anyone can use.
Ask the right major donor and they'll easily see the many benefits – that is, benefits to your charity – a quality mobile app brings.  It is a powerful donor cultivation method.  More and more of your supporters can use it to increase their interaction with you in a way that's convenient  – and popular – for them.
Finally, the survey revealed that ". . . mobile apps create favorable impressions with affluents."  This means they will likely view your nonprofit as "innovative" and "cutting-edge."
A mobile app is a great way to set your organization apart from the crowd.  You can be distinctive in yet another way.  You can create more favorable impressions with your major donors.
Remember this: The affluent are NOT the only people with smartphones.  Not by a long shot.  Mobile devices are rapidly becoming the primary means of staying in touch with people.  You need to be engaging your supporters via mobile today.  No, make that yesterday.
Tap into your existing major donor pool.  Find out who's willing to help fund development of a dynamic mobile app for your nonprofit.
Other resources and information on mobile, including mobile for donor cultivation:
Mobile as a Donor Cultivation Tool
Mobile for Nonprofits – Connecting to Donors Through the Power of Mobile
Mesazoic Era Meets the 21st Century