Ain't technology great?  Imagine taking a snapshot of a Mesozoic Era dinosaur with your cell phone.  That's what you can do at the American Museum of Natural History.  But that's not the only way 21st Century mobile technology is meshing with history at the Museum.
Earlier this month the American Museum of Natural History rolled out its "Explorer app" for the iPhone, iPod touch and iPad.  This application is designed to make it easier for Museum visitors to navigate through the various exhibitions.
Cultivation via Mobile
I view this as a terrific example of how mobile can be used to cultivate supporters . . . whether they're visitors/prospects, donors, or anyone. This app provides several engaging activities to enhance the experience people have with this nonprofit. 
The Museum is really thinking hard about all the ways they can make it easier for people, and to maximize the quality of their experience with the Museum. 
For example: Visitors can use their own mobile device or borrow one of 350 that are available for free.  Plus they have an "App Support Team" of 25 young people to answer any questions visitors might have about using the mobile devices and the app.  That's service.
What can visitors do with the Explorer app while at the American Museum of Natural History? 
 – pinpoint your location and get step-by-step (or turn-by-turn) directions to the next place you want to go.  Find your way through 45 permanent exhibition halls, theaters, restrooms (always an important room to find quickly when you need it), where to get a bite to eat, and of course the shops for gifts and souvenirs. 
 – create your own custom audio and visual tour
 – go on a fossil treasure hunt (that sounds fun)
 – get more information on the displays in the exhibit halls
Cultivation centers on creating a rich experience. Giving supporters content they want and value.  Making it easy for them.  Engaging them in a positive way.  Making them feel important.  I think the Explorer app by the American Museum of Natural History achieves all this.
When all is said and done, nonprofits are all about people in one way or another.  It's also about the relationship with those people – your donors, advocates, prospects, volunteers, members, etc.  Mobile is an important way to create and maintain donor relationships . . . cultivation.
Read more about the Explorer app on Mashable along with a demo video, Navigate the American Museum of Natural History with New iPhone and iPad Apps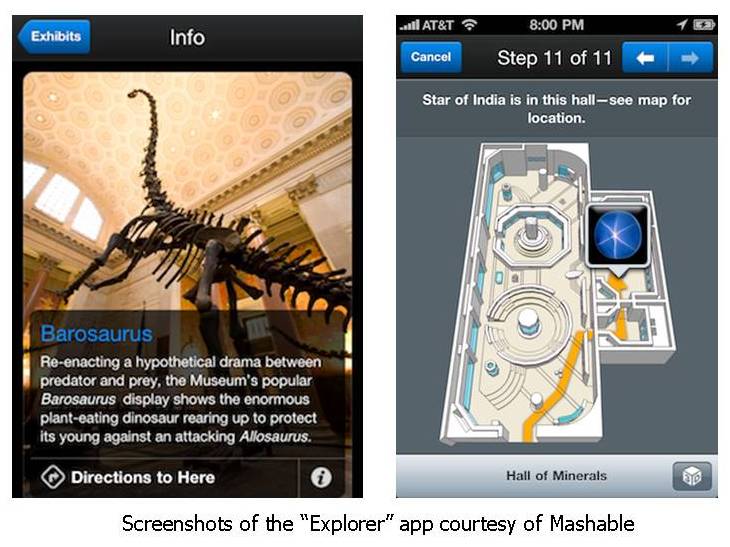 How can your nonprofit engage and cultivate supporters via mobile?  How can you build a stronger relationship with them?  What ideas does this example prompt for you, even if you don't create your own app?
NOTE: Ready to discover more ways mobile can build donor relationships for your nonprofit? I've written a guidebook – or primer – that's a soup to nuts aid to help you see the potential of mobile.