Have you noticed how many of the major (and minor) consumer brands have rolled out new loyalty programs of late? Within the last 18 months or so they've either overhauled their loyalty program, or launched something completely new.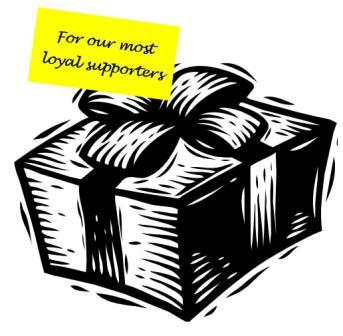 WHY they've done this is what's important to you as a nonprofit:
1 – Loyalty members are often 3 to 4 times more valuable than other consumers.
2 – These companies are surviving the lingering recession due in large part to revenues from loyalty programs.
3 – Higher return on investment seen on loyalty programs.
4 – Loyalty members provide a strong revenue foundation.
5 – During challenging economic times loyalty members contribute an even larger percentage of revenue.
Those five reasons ought to get and keep your attention.
Loyalty programs go far beyond a smile and gracious thank you at the time of purchase. That's still essential. But it's not enough these days.
In the nonprofit world we speak of donor cultivation and stewardship. As part of your cultivation you write warm and friendly letters, emails and web copy that's reader-centric. You send out timely thank you letters and welcome packages. You ask supporters to share their opinion. And on it goes.
Traditional cultivation isn't enough
Today I think you need to do even more. You need to go beyond cultivation and create a nonprofit loyalty program. And no; I'm not referring to a sustainer program either. You need to go beyond that too.
Donors, members and consumers are more demanding than ever. If your charity or association isn't meeting exceeding their expectations … you'll lose them. And if by chance you don't completely lose them you won't receive as much revenue from them. So you still lose.
How can you reward them?
Brainstorm with your staff. Include people who don't normally work in development. Brainstorm with your consultants.
Find ways …
– To reward supporters
– To keep them coming back (e.g., making multiple gifts; or buying products and services as an association member)
– To increase their lifetime value
– To give them an exceptional experience
Achieving this demands non-linear thinking. But I firmly believe your nonprofit will reap the benefits when you find ways to reward loyalty. When you find ways to give something back to those who help you day-in and day-out.
I know you can't give them a free gallon of milk after buying 8 gallons. Nor can you give them a free pizza when their card is full, or a free dessert on their birthday. Use the consumer market as inspiration, but don't get hung up on the fact that you can't precisely duplicate what they do.
Brainstorm. Use non-linear thinking. Reward supporters of your nonprofit with MORE than a traditional thank you letter or email.
Create a nonprofit loyalty program that rewards them for their faithful support. With our rapidly changing times and sluggish economy, I believe it's fundamental to your development strategy.
Related posts:
How "L.L.Bean" compassion can inspire nonprofits to do the same
Do you really value the opinions from donors and members?