Video: Google AdWords for Nonprofits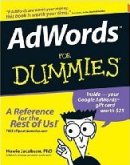 Howie Jacobson, PhD, is the author of Adwords for Dummies and Google Adwords for Dummies.  In addition he has his own pay-per-click agency – The PPC Agency – and his experience includes large and medium-sized corporations as well as numerous nonprofit organizations.
Howie was very happy to share his insights on the many ways nonprofits can benefit from Google Adwords.  It's no exaggeration to say that he has a very charitable spirit along with a fondness in his heart for charities and good causes.
During the interview I [Karen Zapp] asked him three questions which he answered in detail.  Each of the three videos below  has Howie Jacobson's answer to the question you see beneath the respective video screen.
For nonprofits with a tight budget, is Google AdWords a good strategy for finding new donors?
Howie answers this PLUS he shares a valuable tip on how Adwords can also help testing of your direct mail campaigns.
.
.
.
I asked Howie for three tips to help you and your nonprofit get started with Google Adwords and he gave FOUR.
.
.
.
Before you spend a dime on Google Adwords, what is the ONE question you must clearly answer before getting started . . .
.
Did you know Google offers grants to qualified nonprofits for Adwords campaigns? They pay for the cost of your advertising through their Google Grants. It's a marvelous opportunity for you to grow your donor base, increase awareness, further your advocacy efforts, and so much more as outlined in the videos above.
And if you need help with the grant application (specifically the keyword research and sample ads), give me a call. My business associate specializes in Google Adwords. And we can also help you set up a campaign that maximizes the benefits to your nonprofit. I know that Google sets up a basic campaign structure for you, but it often isn't maximized for your efficiency.
There's no need to spend your precious time learning Google Adwords, or monitoring the campaign each week. Because despite what others may tell you, it does take considerable time and effort to learn how to do Google Adwords right. We already know how to get the most out of every grant dollar so your nonprofit gains the most from this strategy.