When a donor makes an online donation … or when a prospect joins your association … or when a donor or member makes a purchase … how are you saying "thank you"?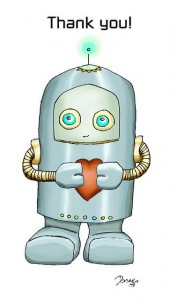 And yes, I'm assuming you do have a thank you page people automatically see after responding to your online call-to-action (CTA). It's also known as a confirmation page.
Are you merely saying thanks and pointing out how their gift is tax deductible? As an association, are you merely saying thanks for purchasing that book?
If that's all you're doing then you are literally leaving money on the table, in my opinion.
Let's snag a few ideas from the ecommerce sector, shall we?
I read an article, "11 Ways to Optimize Thank You Pages" on ElasticPath and I recommend you read it too. Because although I'm sharing a few ideas with you here that I've tailored for nonprofits … you'll likely think of more when you read the article.
Leverage The Thank You Page
How can you leverage that thank you page? How can you get it to work even harder for your charity or association?
Here are seven ideas I've adapted from the article and reframed for nonprofits:
1 – Keep shopping:
If you do sell products (and some nonprofits do), then suggest a related / complimentary product for purchase.
Suggest related articles on other pages of your site based on the content the web visitor just responded to.
Use a testimonial from a donor as to why they named your nonprofit in their will and link to a page with more info.
2 – Let's make a deal:
This refers to coupons. So how about a special deal on an upcoming event if they purchase right now?
3 – Get 'em curious:
Here the idea is to use creative copy and images (not merely thumbnails) to "pre-sell and generate interest." This strikes me as a good candidate for advocacy. For example: 6,327 have already joined the fight the last week…
People start to wonder, "What is this important fight? Maybe I ought to join in too."
You can use two or three creative images where people can choose which CTA is most appealing. You can combine CTAs. One could include a compelling reason for them to opt-in to your email list. (Notice I said, "compelling reason".)
4 – Survey:
This is a terrific opportunity to ask a few (I advise no more than three) questions to deepen their engagement and build a touch more loyalty.
As the article says, these requests can include an incentive to respond or not. I'm not keen on offering premiums or something similar. But I do believe in giving people a darn good reason why they ought to spend time answering your questions.
And no; merely saying that, "Your answers will help us," is NOT a good reason. Instead, emphasize the benefit(s) to the person answering the survey.
5 – Gettin' social:
Give donors, members and advocates a chance to share with their own social media network what they just did – made a gift to your charity; joined your association; signed an electronic petition; etc.
May also give them the chance to pin a photo on Pinterest related to what they just did.
6 – Recruit:
This is a variation on number 5. Membership organizations, advocacy groups, and so on can encourage people to invite friends and associates to also join, vote, etc. Basically give people the chance to bring their network along – to do the same thing they just did.
7 – Up-sell or cross-sell:
Offer them the chance to join your monthly giving club. Show the value of this special way of giving.
Or have an offer (CTA) to sign up for a second year membership for X dollars less; sell a popular book or other resource.
Or they've just joined your association and you offer a limited time discount for your upcoming annual conference. This way you don't discount your membership fees and it's another type of "early bird" offer for your conference.
Read the article and study the examples.
Don't get hung up on the fact that it's written for ecommerce websites. You can learn a lot from other markets. And perhaps you'll even want to pay closer attention the next time you make an online consumer purchase. What is that e-tailer doing that your charity or association can adopt?
Nonprofit thank you pages are important. They reassure donors, members, advocates, etc. that their online "purchase" was successful. And it's a golden opportunity for you to get them to take one more step. Leverage the thank you page and get web visitors to become more deeply connected to your charity or association with one of the seven strategic call-to-actions listed above.
How are you making the most of your thank you pages?
Related posts:
Timing of your "thank you" is everything
How to write a thank you – examples and guidelines
Package gestalt includes the Thank You – online AND offline
———————
Photo credit: "Dot D." via Flickr and PhotoPin.com