I just finished a book that I consider a "must read" for everyone at a nonprofit working in fundraising, marketing or communications.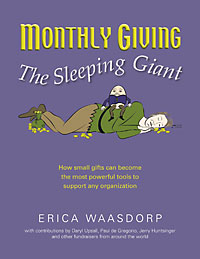 It's called, "Monthly Giving – The Sleeping Giant" by Erica Waasdorp. She has 30-ish years of direct response fundraising experience; including 10 years leading her own agency.
WHY do I consider it a "must read" for anyone serious about having a strong fundraising program?
Because regardless of whether your nonprofit is small, medium or large … regardless of whether you already have a program and want to grow it or you have yet to start a monthly giving program … this book will help you.
And speaking of how the book will help you, I spoke with Erica and she says that when you read the book "… I'm hoping readers will be eager to get started with a monthly giving program and have the initial tools to do so. For those who already have a program – they may find a few ways to generate more monthly donors."
She added, "I'm also hoping readers realize that this is a long term program with great long term results. Yet it doesn't necessarily require huge investment upfront. Start with your current donors."
What you'll find
In-depth chapters on each of the channels along with copywriting, how to manage a program, current trends, and so much more. And as she drilled down into the specifics; if Erica didn't have in-depth experience herself … she called on another subject matter expert to share their expertise and experience. Because as Erica says in her book, "if you can't do it yourself, hire someone who can … don't be afraid to hire any expertise you may need."
And speaking of expertise; here's what you'll gain from Erica's book:
• The simplest and cheapest way to start getting donors to give monthly
• Monthly donors not only give more annually, but they're retained at much higher rates (data shared)
• Ideas on how to name your monthly giving program
• Tips on getting started (Hint: Don't over analyze. Just do it.)
• Suggestions on benefits to offer for your sustainer program
• Which segments of your current donor file (house file) are your best targets to start with
• To use or not to use freemiums and premiums as part of this program
• Pros and cons of giving levels; where to start and why
More highlights by chapter on what is covered in detail (not just "what" to do; but also "how" to do it along with examples):
• Acquiring monthly donors by direct mail – look to your welcome package; lapsed donors; ask string; special appeals
• Inbound telemarketing – includes using your own staff and how they handle calls from donors to convert them to sustainers
• Outbound telemarketing – how about 7 to 10 percent response rates from this method; when to make these calls; tips on outsourcing; the scripts (including samples); looking at the data and fulfillment; and on it goes
• Email, Social Media and the Internet – the importance of using a simple and unique landing page; the role of your website (remember: some 67-percent of donors check out a website BEFORE they decide to make a donation); samples of including monthly giving options on your website; Facebook giving pages; etc.
• Direct Response Television (DRTV) – definitely worth considering for the larger and more established charities; insights from nonprofit experts who've worked with DRTV; which campaigns are the most successful; how much air time for your "commercial"; budget tips and a case study
• Face-To-Face Fundraising – starts with a definition of exactly what this is; its cost relative to other donor recruiting methods; retaining these committed givers; and a case study
• Convert single gifts to monthly donors with texting (SMS) – this method is in its infancy but do NOT overlook it; harnessing the power of cell phones and our mobile world; integrating it with other channels; etc.
• Radio – don't forget this reliable traditional channel; public radio stations are but one example of an org successful at converting members to sustainers; use of your website to make this method work; scripting; etc.
• Ads, Inserts and Events – this includes newspaper and magazine ads; newspaper inserts (KZ adds: Don't forget direct mail inserts. Read this post.); and tips on acquiring sustainers at different types of events
• Retention – identifies key players within your nonprofit staff and their roles for a successful sustainer program; diagram and discussion of the entire process for acquiring a monthly donor; thank you letters; possible snags with banks and credit cards; getting renewals before credit cards expire; importance of signed EFT forms; monthly reminders; converting pledge and check donors to automatic givers; processing the gifts; practical tips on your back-end processes; and more
• Getting management to see the big picture – importance of monthly giving as compared to acquisition and major donor programs; typical retention rates for EFT, credit card and check (pledge) donors (note: all are incredibly high); and how to evaluate your monthly giving program
• Planning for Results – auditing your current fundraising programs (includes a form) to prepare for your new sustainer program; and a case study
• Developing Your Ongoing Communication Strategy – do you include them in appeals to other donors; staying in touch; converting envelope reminders to automatic givers; upgrading sustainers to give more; multiple sustainer programs for multiple areas of your mission; and promoting wills/bequests
Do you see now why I urge you to read this book? And for the record, this is an unsolicited endorsement. What's more I receive zip, zero, nichts, nada for this review.
In her own words, Erica is "… passionate about monthly giving myself and know how well it can work."
She has extensive first-hand experience building and expanding sustainer programs. Read "Monthly Giving – The Sleeping Giant" and you'll also benefit from her experience. In other words, study her book and put it into practice and your nonprofit will raise more funds.
Something else Erica wants you to know: "I believe monthly giving generates more revenue long term with a small human resource investment. I think monthly giving needs to be as important as a major gift program. It can generate huge results, hence the 'sleeping giant.' The monthly donors are already in your current donor base. You just have to 'wake them up'."
I repeat: Erica Waasdorp's book is a "must read". Get your copy today.
——————
More of my posts on monthly giving.