Perhaps you've seen the announcement by the U.S. Postal Service (USPS) about sending 2-ounces for the price of 1-ounce. They refer to this as their "2nd Ounce Free" program.
Let me say right off that I'm not an expert on postal rates or deciphering mailing programs through the USPS.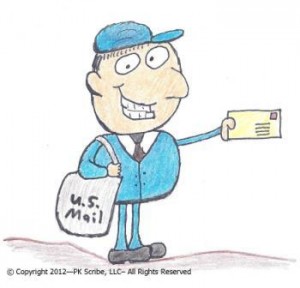 But I've read a news article, the USPS press release plus their Fact Sheet … and it appears there may be times nonprofits can take advantage of the new pricing. So I decided to share what I discovered with you.
First the basics of the new USPS program along with links where you can find all the details.
Effective January 22, 2012, businesses mailing First-Class Mail automation, presort letters using "2nd Ounce Free" pricing can mail letters weighing up to 2 ounces at the 1-ounce postage rate.
Link to press release: U.S. Postal Service Launches "2nd Ounce Free"
Link to news article in PrintWeek: USPS Offers Direct Mailers "2nd Ounce Free"
Link to USPS website and Fact Sheet: https://www.usps.com/business/first-class-mail-for-business.htm [On this page in tiny bold print about half-way down the page, you'll see a blue link "RTF" that when clicked gives you the Fact Sheet.]
According to the press release and statements by Gary Reblin, vice president, Domestic Products, "First-Class Mail automation, presort letters are primarily generated by commercial mailers of bills and statements — or transaction mail. 2nd Ounce Free pricing will provide these customers with greater value from their transaction mailings by letting them include an additional ounce that can be used for operational or marketing purposes at no additional cost."
Please correct me if I'm wrong, but I think there are opportunities here for higher-volume nonprofit mailers to send select direct mail letters (i.e., First-Class Mail® Presort and Automation letters) where the second ounce will be free.
Consider upgrade letters to increase the number of donors in your sustainer program. Moving donors from low to mid-level, and from mid-level to major donor. Planned giving and legacy campaigns.
Associations could add promotional pieces on webinars and conferences to renewal letters. Why not test a segment of new members about to renew for the first time?
At the very least you could partner with a for-profit mailer and include an insert about your nonprofit in their envelope with the company's billing statement, bank statement, credit card offer, etc. Insert media is a great way to piggy-back on this opportunity.
This isn't a limited time offer. As of today it's a new pricing structure so I encourage you to explore ways to make the most of your nonprofit direct mail budget. It pays to go first class!
Related posts:
Stretch your nonprofit acquisition budget … includes direct mail tips
6 tips for monthly giving and direct mail programs