Yesterday I had a delightful phone interview with Jenifer Snyder, executive director of The mGive Foundation. She is very passionate about her work in helping nonprofits raise awareness, raise funds, and cultivate relationships with donors and prospects through the mobile channel.
Earlier today the Foundation published a press release announcing the results of a survey that examined the behavior of mobile text donors and how they like to use this channel: Text Giving Donor Survey Report.
It's the first of its kind.
The Text Giving Donor Survey was commissioned by the Foundation; researched and written by CCS (consulting and management firm for nonprofits).
As Jen Snyder said during her interview with me, "There's a lot of conjecture and speculation in the marketplace, but no authoritative metrics behind that data. We consider ourselves a leader in this arena and felt it was time to conduct this survey; to get some authoritative data.  Now we understand more about the demographics of donors and we can answer questions from nonprofits in an educated fashion." 
Today I share highlights of the survey, insights from the discussion I had with Jen Snyder regarding the data, plus you can also listen to an excerpt of my interview with her.  I encourage you to take a few minutes to listen because we talk about aspects of the survey and how nonprofits can benefit from mobile that you won't find in the report.
Highlights of the "Text Giving Donor Survey Report"
– "86% of respondents who give via text are willing to consider giving larger amounts via other channels." In other words, a $5 or $10 text-to-give donation won't keep them from giving more online, via direct mail, or other channels.
– Closely related to the previous bullet is this result: "79% of respondents who give to a nonprofit via text have also given to that same nonprofit via email, website or direct mail."  They're reporting what they have actually done as opposed to stating what they might do.  As surveys and research go, that's an important distinction.
   This result also emphasizes the importance of integrated multi-channel campaigns.  And intetration applies equally to fundraising, advocacy, and cultivation.
– 66% are highly educated with undergraduate or graduate degrees
– 62% of respondents give to 2 or more nonprofits via text; and 12% give to 4 or more!
– The top two reasons cited for giving by text: 1) convenience, and 2) the giver was already connected to the organization's cause.
Speaking of convenience . . . "Donors today are more sophisticated than ever. Donors want options when it comes to charitable giving, and they want to see the organizations they support incorporating new technologies to reach them more effectively," shared CCS Operational Vice President, Peter Hoskow (firm that researched and wrote the survey commissioned by The mGive Foundation). 
Make it easy for the donors.  Give them choices.  Donate via direct mail, email, website, mobile, etc.  Remember, with mobile you're part of a donor's private world.  Mobile devices are how they communicate with friends and family, as well as look up where to eat and what to do (there's an idea – make your nonprofit museum, concert hall, theater, wildlife refuge, etc. easy to find via mobile). 
Join donors, advocates, members and all your supporters in this very personal space known as mobile.
And don't assume that only the teens and twenty-someones will engage with you via mobile.  Jen Snyder and I talked about this at some length.  First the data:
35% of respondents were Millennials (ages 16-33)
24% – Generation X (34-44)
23% – Boomers2 (45-55)
14% – Baby Boomers (56-65)
 4% – Seniors (66+)
Granted the majority of respondents were Millennials, but look at how evenly matched GenX and Boomers2 are (24% and 23%, respectively).  Here's what Jen had to say about this:
"Having a better understanding of who mobile donors are – education levels, ages – I think that's going to be critical.
Nonprofits are having a very difficult time attracting new donors, including Millennials.  Mobile is an excellent way to engage a different generation and needs to be part of a holistic strategy.
Our study confirms that mobile is most effective (at this moment in time) with Millennials.  But you've got GenX and Boomers heavily engaged as well.
The fact that this technology [mobile] is somewhat ubiquitous among all the different generations is critical and important going forward."
And while we're on the general topic of "engaging donors," Jen and I also talked about cultivation during the interview.  For those of you who follow my blog and my newsletter, you know that using mobile for cultivation is the soap box I'm often on. 
Snyder agrees that, "Mobile is such an easy way to keep donors and constituents engaged.  Cultivating relationships and keeping them alive is critical so they stay with you over longer periods of time.  Use mobile to keep them feeling happy, connected and fulfilled."  Yes, mobile is a tool/channel perfectly suited for cultivation.
I'll publish more on my interview with Jen Snyder in future posts – parts of our discussion that went beyond the pure results of the mGive Foundatin survey.
But now you get the chance to hear for yourself some of Snyder's comments from the interview.
Questions you'll only hear answered in the interview are (i.e., this recorded discussion isn't part of the Text Giving Donor Survey Report you can find at mGive.org):
1 – What's the #1 question nonprofits ask about mobile; and how does the survey dispel the myth surrounding this question?
2 – Over 56% of survey respondents "rated their experience with text giving as excellent or good."  I asked Jen Snyder how it can get better.  Any idea what's missing that could raise that great number even higher than it already is?
3 – What do you [Jen Snyder] believe is the most important concept for nonprofits to understand about mobile?
[wpaudio url="http://www.pkscribe.com/audio/KZapp_Interview_Mgive_02012011.mp3″ text="Excerpts – Karen Interviews Jen Snyder of mGive" dl="1″]
Finally, I'll close with another quote from CCS (mGive Foundation's research partner in this survey): "Mobile giving can be an excellent vehicle for nonprofits to diversify their fundraising programs," says Hoskow.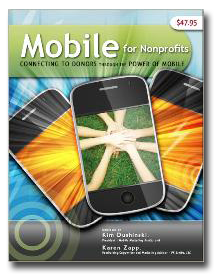 Whether you want to add to your current understanding of mobile, or you need a tutorial to guide you from A-to-Z on what it is; how it works; and ALL the ways mobile can benefit your nonprofit . . .
Mobile for Nonprofits – Connecting to Donors Through the Power of Mobile
How do the results of this survey change your thoughts about nonprofits including mobile in the marketing, cultivation and fundraising mix?