Tis a lovely day when we honor Saint Patrick (387 – 461 AD).
Although much of the focus these days is on wearing green so you don't get pinched.  Or drinking green beer and eating corned beef and cabbage . . . there's more to this day than myths and legends.
Few quick tidbits.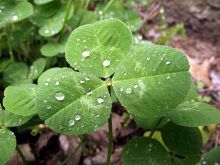 The shamrock – a three-leafed old white clover – is a symbol of Ireland.  The word shamrock is derived from Gailic "seamróg" which is a version of the Irish word for clover.
And one of the legends is that the plant was used by Saint Patrick to illustrate the Christian doctrine of the Trinity.
March 17th is the date when Saint Patrick died and this is why he is honored today.  Within the dioceses of Ireland (both Catholic and Protestant) this is a religious day and it's also an official holiday in Ireland.  Whereas outside of Ireland it is mostly a celebration of Ireland itself.
Whether you have any Irish in you or not . . . Enjoy the day!  And if you want to learn more about this 5th-century bishop and his fascinating adventures and accomplishments, you can begin with this article. 
I'll leave you with an Irish verse and an Irish blessing:
For each petal on the shamrock
This brings a wish your way –
Good health, good luck, and happiness
For today and every day.
~Author Unknown
May your blessings outnumber
The shamrocks that grow,
And may trouble avoid you
Wherever you go.
~Irish Blessing