Mary Latimer and her daughter Tamara Griffith are both Certified Flight Instructors (CFIs).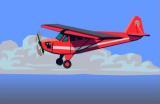 From July 29 through August 7, 2011, Mary, her husband and daughter and other flight instructors will hold the Girls In Flight Training (GIFT) academy.  It will take place at the Wilbarger County Airport in Vernon, Texas.
Why am I sharing this here?
To begin with I think it's a neat story.  Second, these professionals are sharing their expertise … they're volunteering their time to help young women realize their dreams.  That's charitable behavior.  And third, as a pilot I'm partial to these stories.
And who knows?  Many of these women pilots might go on to help the numerous charities (certified 501-c-3 nonprofits) who use aviation to fulfill their mission.
One thing that's unique about Mary Latimer's academy is this:
Getting women interested in aviation is not GA's stumbling block, Latimer said. "Our stumbling block is once we get them started, how do we keep them going?"
Other groups are focusing on bringing women to the airport and introducing them to aviation, but there's also a need to ensure women pilots progress through their first certificate and on to commercial and instrument ratings. "I need to find out what's interfering with them finishing. Then we can fix the problem," she said. "You can't fix the problem until you identify the problem."
Here's something else that's special: "They won't charge for ground or flight instruction—only for the use of the airplane and fuel. What's more, Latimer is working to ensure free or low-cost housing is available. She leases a small house at the airport that can hold six to 10 people. Participants also are welcome to pay for their lodging at a local motel."  Now that is charitable!
So if you're a female (youth or adult) and would like some help completing your rating, want a refresher, or anything else … contact Latimer and head on down to Texas.
You can read the full article here on AOPA Online and also get the info on how to contact Latimer for more information.