My question is NOT, "Do you have a newsletter?" My question IS, "Do you have a donor-centric newsletter?"
I hope you do have one.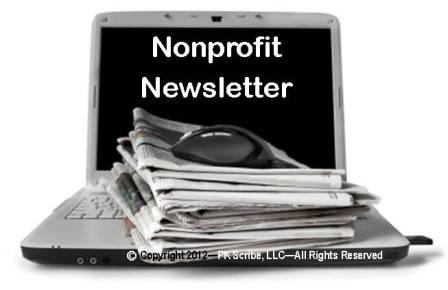 A donor-centric newsletter is focused on the donor. The donor is in the spotlight. The donor is the "hero" of the story because they make everything possible.
Why is it so important to have such a newsletter?
Because it can improve retention. It might even upgrade some donors to higher giving levels. Donor-centric newsletters are another opportunity for cultivation and nurturing. And you can raise money with inspiring newsletters.
They're also an opportunity to do what you don't do in a fundraising appeal letter:
o Educate – Okay, there's a hint of education in an acquisition letter, but that's all. It would be boring and lower response if you do much educating in an appeal. But in a newsletter you can go into more depth on what you do, why you do it, and why it's so important. An infographic could even help with this task on occasion.
But you must still make it interesting and put the donor in the spotlight! So don't get carried away with educating. I'm simply saying that for select newsletter articles it could be fine to add a few more educational details. Then refer donors to a specific spot on your website for those who want all the nitty-gritty.
o Report accomplishments – Remember that special project you wrote an appeal for? Or the matching gift campaign? Your newsletter can report the progress and accomplishments of those appeals and how the money was used. Make it crystal clear what their gifts accomplish.
o Donor profiles – Consider profiling a donor on a regular basis. This could be to promote planned giving, volunteering, or any level of giving. Use a story format and highlight why this donor supports your organization.
6 Copy Tips for a Donor-Centric Newsletter
1 – Your donors are great. Write about them and not you. Make it clear that their belief in your mission is well placed. Prove that donors are doing the right thing by supporting you. Whatever you do, don't inundate them with facts, figures, and mind-numbing statistics.
2 – Fill it with "mission accomplished" stories that highlight how the donor's gift helped an individual, a single family, saved a bird, etc. Stories make the world go round. Stories motivate, inspire, and captivate our attention. Stories raise funds.
Consider a story format where you paint a picture of the situation without your nonprofit. What would it be like if you didn't exist and donors couldn't support you? Then show what started to happen when you and the donors got involved. End with a success that shows how donors helped make a part of the world a better place. And thank them once again for all they do.
3 – Donors are busy; make it readable. Write for skimmers. Write for a 5th or 6th grade reading level regardless of how technical your mission might be. Have lots of white space and short paragraphs. Use black font on a white background that's large enough to read.
4 – Be consistent. I believe newsletters ought to be published on a regular, consistent basis. Your email appeals and cultivation emails don't have to be on a fixed schedule, but newsletters should. Also have a consistent design and layout (looks the same from issue to issue) that's professionally created. Consistency also includes the content. For example: Perhaps you always have two main stories, then a donor profile feature and upcoming events list.
5 – Draw them in with stellar headlines. Notice that I did NOT say, "Grab their attention with stellar headlines." It's no longer enough to grab attention with a headline. Its job has evolved to drawing the reader into the lead of the copy. You might use curiosity (just don't get clever to the point of being obscure). You might ask a question. Perhaps controversy is right for a given story. Strong action verbs also give oomph to a headline.
6 – Have clear and compelling calls-to-action. And if it's a print newsletter, include a reply form and envelope.
Donor-centric newsletters can help you accomplish a tremendous amount of your fundraising, cultivation, and retention goals. Do you have one?
Another related post:
Interviewing donors for stories and profiles … fundraise with interviews