Ever notice how a big job of raking leaves from the yard … or cleaning out the garage … or washing the windows on the house all go quicker and easier when more than one person is helping?  In other words: When two people are working instead of one; it gets done in less than half the time.
The combined effort produces greater results than the two working separately can produce. 
The same holds true for fundraising.  Several channels working together on the same campaign yields more than if they each worked alone on separate campaigns.  That's another way of saying integrated – or multichannel – fundraising pays dividends!
Therefore, regardless of the size of your nonprofit, the days of "silo fundraising" and "silo marketing" are fading fast.  What do I mean?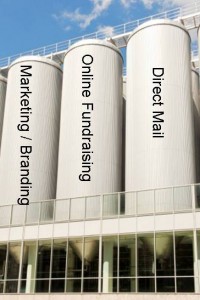 Large nonprofits tend to hire one agency that specializes in direct mail.  And another that works in the online world.  These are two different silos working independent of each other. 
Whereas in medium to smaller nonprofits the silos might be based on departments.  One department is responsible for direct mail … and another for online. 
And the silos produce a clash of the tried-and-true direct mail versus the online frontier.
Destroy the Silos …
Integrate your Fundraising
With regard to the technology and mechanics of direct mail versus online, yes you do need experts in each.  But whether it's someone within your nonprofit, or a hired consultant to act as referee … you must integrate these different channels.  Good direct response copywriting and marketing principles are the connecting threads for all the channels.
Here's a quick example of a multichannel fundraising campaign to get your creative juices flowing: 
1 – Create a unique landing page with details on a new capital campaign; include a special donation page on your website for the campaign
2 – Email announces an upcoming capital campaign
3 – Direct mail letter launches capital campaign
4 – Start blogging about the campaign.  Use the blog to auto update your Facebook page.  And use TwitterFeed to send out tweets for each blog post.
5 – Send a post card follow-up
6 – Send an email follow-up and reminder to donate
7 – Send text updates to donors who have opted-in for select mobile news from you
8 – Have mobile ads for your capital campaign and perhaps even other select ads on the web
9 – Thank donors by mail, email and possibly even by phone for their donations
10 – Update progress on your website, emails, and in your newsletter
The integrated, multichannel fundraising campaign outlined above can certainly be expanded.  I just wanted to highlight the possibilities.  And hopefully you see how something like this will raise more than direct mail alone, or online by itself. 
An integrated campaign also allows for, and responds to the diversity and preferences of your donor database.  Requests for support and reminders sent in all channels will raise more money.  Click here to read another post I wrote on this topic earlier this month.
Direct Mail + Email + Mobile + Social Media = Great Fundraising