Email ought to be as integral to your fundraising and cultivation efforts as direct mail and your nonprofit website.
And regardless of the channel, we all want bigger lists. So how might you grow your nonprofit email list?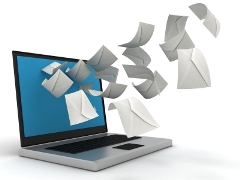 1 – Give donors, members, advocates and prospects a darn good reason WHY they should sign-up for email.
2 – Don't proceed with any other steps until you finish #1. I'm serious!
3 – Add a sign-up box to your website pages that's above the fold. And ask for the minimum information which is their first name and email address. Use future communications (e.g., your email welcome series) to get more info you may desire.
4 – Add a newsletter sign-up module on your Facebook page.
5 – When appropriate, the call-to-action at the end of a YouTube video could be to sign-up via email for more info. ALWAYS send viewers to a unique landing page for signing-up!
6 – Again when it makes sense, use social media updates (e.g., Twitter and Facebook) to invite people to stay informed on a topic by signing-up for your email.
7 – Online press release. When an inspiring story occurs – something that stands out – share it in a press release. The call-to-action promises more stories like this and the hyperlink takes readers to a unique landing page where they sign-up for your email updates.
8 – Ask for their email address in direct mail appeals. Many nonprofits add a line to their reply device requesting this info (Important: Refer to #1, above).
But on a hot topic you can also encourage readers to share their email within the body of the appeal as a way for supporters to get timely, breaking news.
9 – Use 2D barcodes (e.g., QR codes) that people can scan that takes them to a sign-up page with samples of what they'll receive. (Refer to #1, above.) These QR codes can appear on any nonprofit printed collateral, signs, business cards, etc.
I'll publish the other nine ways (for a total of 18) to build your nonprofit email list in my next blog post coming to a computer screen near you on Tuesday, January 24th. Stay tuned.
More related posts:
5 Steps to Speedy Fundraising Response … the power of email (includes examples)
Emails timed correctly can boost direct mail response