It might be safe to say that every charity strives to bring more hope to our world.  Today I share a story about a charity that brings hope to people on wings . . . the wings of aircraft.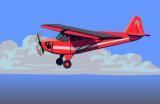 As a private pilot I'm naturally drawn to any charity that uses aviation to help people.  But the reason I'm highlighting Wings of Hope is because they've been nominated for the 2011 Nobel Peace Prize!  Now that's big news.
Wings of Hope is based in St. Louis, Missouri and was founded in 1962.  Their focus is on health care along with a transportation system — typically a small bush airplane.
To quote from their website:
"The tears of a mother in the remote jungle are the same as mother's tears in the asphalt jungle of an American city.  They need a way to access whateer health care is available…" for their family.
The goal of Wings of Hope is to "… change the course of humanity towards peace and hope."  Their work is always a joint venture with the poor in the area.  And all designed to advance toward self sufficiency.
Basically they fly medical professionals to remote areas in 45 countries (including rural areas of the U.S.), or transport people to health care facilities to receive life-saving treatment not available where they live.
Nobel Peace Prize Nominee
Wings of Hope is one of 150 nominees.  The short list will likely be compiled by the end of March, and the Nobel laureates will be announced in September.
"It's very much an honor to be nominated," said Wings of Hope president Douglas Clements, "but of course we want to win it, no doubt about it." 
They've earned many significant awards over the years including (but not limited to) the United Nations Humanitarian of the Year Award, The Lindbergh Medal, plus Wings of Hope was knighted by Pope Benedict in 2008.
The work the charity was asked to do in Vietnam is what caught the attention of the person who made the nomination.  In Vietnam and Cambodia they will join the work to eliminate landmines and unexploded bombs.  In addition their health-related work will be to help correct birth defects that still occur from defoliants used during the Vietnam War.  The chemicals remain in soil and water systems.
Congratulations to all the good people at Wings of Hope.  My best wishes that you become a recipient of the Nobel Peace Prize.  Your work is clearly worthy of the award.