Who you write about has a big influence on the success of your fundraising appeal (direct mail, email, video, etc.).
Your choice is "us" or "them."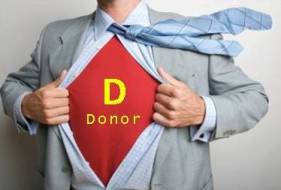 If you choose "us" then your fundraising copy is all about what your organization has done, what the org plans to do, and what the org will do with the money donors send you.
The spotlight is shining on the nonprofit you work for. This may sound harsh, but that is a self-centered approach to fundraising. And it turns a lot of people (read, "donors") off – whether they decide not to give at all, or to give less.
It comes across as someone standing there talking to you about how great they are and going on … and on … and on. It's a turn off – right?
Conversely, when you choose "them" your fundraising copy is all about what donors have done, what the donors can do, and the difference they can make in the world by giving.
The spotlight is shining on the donor. They are the hero of the appeal and all you do. This style of writing also personalizes the appeal and makes everything more tangible for the donors. It's easier for them to see themselves in the picture you paint with word and how they – the donors – really are making a difference.
It's called reader-centric copy. It also invokes stronger emotional reactions and it all adds up to more funds raised.
That's also the gist of a recent article by Nell Edgington in FundraisingSuccess, "How to Create a Fundraising Message That Works."
Who are YOU going to write about? "Us" or "them"?