What do YOU do when you feel physical pain? Odds are that you try to avoid more pain and also do what you can to ease the discomfort of the existing pain.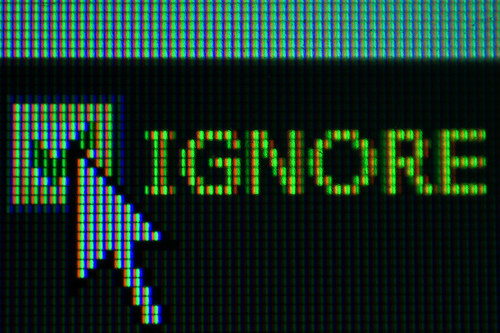 Why do I ask you that? What does any of this have to do with fundraising?
When you make donors, members, volunteers, advocates or prospects feel ignored, shunned or rejected … it triggers a part of their brain associated with physical pain.
That's a negative emotion you do NOT want to trigger because it will drive them away from donating and joining. Stated another way: The result is the exact opposite of what you're trying to do. And yes, this is based on scientific research.
"But we don't ever ignore our donors and members!"
Is that what you're thinking right about now? Don't be so sure.
The act of ignoring doesn't have to be blatant. What's more, even though you don't intentionally ignore someone, if you don't do a great job of listening they can still feel ignored and hurt – to some degree. And even more benign situations can be interpreted as being ignored.
These potential "ignore" scenarios came to mind when I read about this research:
Phone hazards: Consider training on phone etiquette as well as randomly monitoring how reception or your call center converse with people. Also give thought to how anyone at your charity or association answers the phone.
• Does your staff sound bored? Or do they sound distracted because they were interrupted by a call? Do they sound eager to get the caller off the phone?
• Do they give short, terse answers that barely answer the question?
• Do they listen to the complete question? Pause … and when there are a couple seconds of silence from the caller who is clearly waiting for an answer, proceed to answer the actual question asked instead of the one they thought they heard after two words were out of the caller's mouth?
Web forms
• When someone fills out your "contact us" web form … how quickly do you respond? And do your donors and members agree that "within 24 hours" (or something similar) is fast enough?
• Have you ever analyzed the questions you receive to see if any can be addressed faster by including them within your Frequently Asked Questions (FAQs) section?
• Do you send an immediate reply via email to reassure them their question was successfully received after hitting "submit" on the web form; to let them know the time frame for the complete reply; and to suggest they double check the FAQ page just in case they'll find the answer there.
• Do you also offer the option of calling instead of using the web form? Do you have a toll-free number boldly displayed? Do you encourage web visitors to call instead of using the form?
• Do you carefully read the question submitted on the web form? Double check that you've answered the question asked and NOT the one you think they asked. This mistake is easily made because you know so much more about the topic that your "context" is vastly different from that of your supporters.
Live events
• Are the folks at the registration desk joking around? Conversing with each other and less-than-enthused when interrupted?
• Are they so focused on getting more badges ready or refilling supplies at a booth that they don't even notice someone would like some help? This is a tough one. It's also an example of a benign scenario where you can still make a donor, member, or event attendee feel ignored.
• Are the folks at your desks or booths so comfortable and relaxed (sitting on chairs; reading a book; texting or "playing" with their phone) that participants get annoyed and again feel hurt and ignored?
• Do you have enough staff at all the right times to deliver exceptional "customer" service?
What other scenarios can you think of? How do you minimize hurting your donors and members by making them feel ignored?
Remember: When this happens it triggers the same negative emotions within the brain that people want to avoid. Supporters retaliate by making fewer donations … fewer members join … fewer volunteer … fewer donors make repeat gifts … and so on.
Exceptional service is of paramount importance. It's another chance for you to stand out from other nonprofits and be the organization of choice for more people.
More posts on "customer service":
What are they saying behind your back? Don't leave bitter memories with donors.
Because you care and they need to know you care
When good service whispers … people listen
Resources for this post:
Do Your Customers Feel Ignored? By Neuromarketing.com
Photo credit: "DidMyself" via PhotoPin.com