In less than two weeks from now as we ring in the New Year, it will be interesting to read about the results of a few holiday mobile giving campaigns that are underway.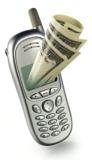 The Salvation Army is testing a mobile channel in its Red Kettle Christmas campaign this year.  They're adding a Mobile Bell Ringer program in two markets:  The Salvation Army Tidewater Area Command in Virginia and The Salvation Army Dallas/Fort Worth Metroplex Command in Texas.
The basic idea is grassroots fundraising.  The Salvation Army is hoping to inspire lots of donors to ring the bell to help fill the Red Kettle via their mobile phones – a virtual campaign gone mobile.
Although they're using mGive, in this case 100 percent of the mobile donations raised through the Mobile Bell Ringer campaign will go to The Salvation Army. Normally mobile technology vendors and the wireless carries take a small percentage of the donation to cover their costs.
"Our goal is for each supporter to pledge to find 10 people to make a $10 mobile donation this holiday season," according to Maj. Ward Matthews, CEO of The Salvation Army D/FW Metroplex Command.
How do donors become Mobile Ringers?  Text the word BELL to 50555.  A link will be sent to your mobile phone.  This link is where you can . . .
– register
– download a Mobile Bell Ringer "ringing bell" ring tone
– collect donations
– track donations collected
– compare your progress to that of other Mobile Bell Ringers.
Once a donor is registered they'll be encouraged to set a goal on how much to raise.  And they'll also be encouraged to reach out to their own networks to achieve their goal by collecting $10 mobile donations from folks they know.  All proceeds raised from this campaign will help provide food, clothing, shelter and toys to local families in need.
It's an interesting concept because people are more likely to give when approached by someone they know; a trusted source. 
The next two campaigns are testing $25 gifts via mobile … via text messages.  Both the American Center for Law and the American Red Cross are participating in the test.
These two campaigns are designed to test the following:
1 – Are donors willing to make $25 donations via mobile?
2 – Will the cell phone carriers experience an unacceptable volume of requests for refunds with these higher value donations?
To date, charities that use mGive for their mobile giving (and this isn't the only option), have been limited to $5 or $10 donations.  The wireless carriers haven't had a significant impact on their operations because the requests for refunds have been low (and/or a low number of customers failed to pay their bills with a donation to a charity on it). 
The typical sequence of events for charities using mGive is that when a donor makes a gift "… via text message, the contribution appears on his or her cell phone bill. The cell phone carrier then forwards the money to the charity, usually through a nonprofit organization that serves as a middleman" (i.e., mGive). 
Read more about this test in the Chronicle of Philanthropy article, "Two Charities Test $25 Text Gifts."  And you can read more about The Salvation Army campaign in The NonProfit Times, "Salvation Army's Kettle Bells Get A Ringtone."  
Is mobile a mystery to you?  Are you convinced a small or medium nonprofit couldn't afford it or take advantage of this channel?  Do you think only the "big boys" are eligible for mobile giving?  Do you really know the variety of ways mobile can help your nonprofit?  Mobile giving is only the tip of the iceberg.  Here's a zero-risk way to get comfortable with mobile so you can decide how to proceed and when.